"Caricature: the Basics of Graphic Stilisation"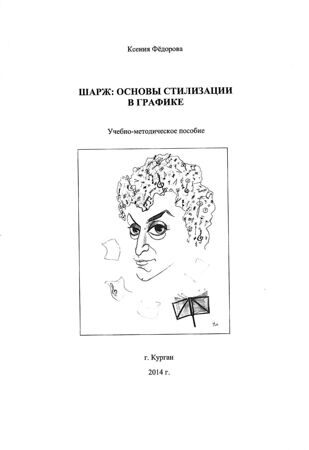 Manual "Caricature: the Basics of Graphic Stilisation" by Ksenia Fedorova came out in 2014. It will be og great use for art teachers, students of art-graphic faculties and those who are interested in art of graphics.
Ksenia's method helps to master the technical side of drawing a caricature in the shortest possible time, and recommendations from the manual will help to create a vivid expressive image. The publication contains a gallery of children's works – Ksenia Fedorova's pupils - as well as author's caricatures on famous artists.
See a short film about Ksenia's method.
Vladimir Stepanov, artist (Moscow)
- Ksenia, thank you for your caricature books! Studying them. I have already painted the first caricatures on my friends!
Anatoliy Kireev, bard (Chelyabinsk)
- Ksenia!
Very-very nice, caricatures! Humorously and so talented!
Vladimir Baskin, composer, member of the Union of Composers of Russia, musical director of the St. Petersburg variety theatre named after A. Raikin:
- Ksenia, I saw your carticature on me. Very cool!!! I really enjoyed it!
The manual is certified and recommended for teaching by the Department of culture of the Kurgan region. The method is presented at the International Pedagogical Forum "Workshop of Boris Nemensky" in Moscow (2014) and awarded a diploma "For the Skill of Professional Positioning".