On the island of childhood
« Back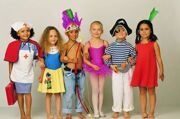 On the island of childhood
17.03.2017
Ksenia Fedorova is a guest of the program "Island of childhood" on Radio Russia-Krasnoyarsk.
On the eve of the premiere of her fairy tale "Music Box" the author and radio journalist Irina Polyakova are discussing about children's reading and such an urgent problem as children's safety.
The audience got acquainted with the audiobook of Ksenia "ABC of Safety" and hear funny poems performed by a highly professional creative team: the People's artist of Russia, leading actress of the Maly theater Olga Pashkova, actor of the theater "Commonwealth of Taganka actors" Roman Serkov, actor and countertenor Oleg Bezinskikh, composer Vera Zaitseva (piano).