Presentation at the Neva
« Back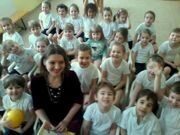 Presentation at the Neva
01.03.2017
Little readers - children from kindergarten #32 of the central district of St. Petersburg got acquainted with the book and audiobook "ABC of Safety" by Ksenia Fedorova.
The writer-artist came to visit the kids. Children learned the rules of behavior in the subway, on the road, in public places, at home, how to behave with pets and eat healty food.
Deputy head of the kindergarten for educational work Veronika Borisova noted the extreme relevance of the topic "ABC of Safety" and the high demand for the audiobook presented to the kindergarten in bringing up children.