To the music of spring
« Back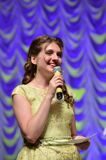 To the music of spring
06.03.2016
Famous artists prepared an unusual creative gift for International Women's Day. It will be the premiere of musical and literary project "Musicians joke, ladies laugh" in the Bashkir Philharmonic .
These are talented Russian musician Alexey Balashov (oboe, Moscow) and honored artist of the Republic of Bashkortostan Elvira Khairutdinova (organ). The concert program is conducted by writer and artist Ksenia Fedorova (Moscow).
Such concerts are held in the year of Russian literature and have an important humanitarian and educational mission. They are aimed at popularising high classics, attracting a wide range of public to the eternal cultural values, demonstrating the best achievements in the world of musical art through a relaxed friendly communication with the audience right during a concert evening.