"Iconic Persons of Our Community"
« Back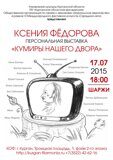 "Iconic Persons of Our Community"
17.07.2015
Personal exhibition of Ksenia Fedorova "Iconic Persons of Our Community" - caricatures on famous cultural figures, whose life and work are closely connected with the Urals - started in July, 17, 2015 at the regional philharmonic.
The author of the exhibition is Ksenia Fedorova, a graphic artist, author and illustrator of children's books, a teacher of the fine arts department, a member of the Union of Teachers-Artists, the Association of Art Critics of Russia and the Union of Journalists of Russia. Pupils of her class are the winners of international and regional competitions.
Ksenia has been engaged into the art of caricatures since her trainee at the art studio of famous American caricaturist E. Stanton in 2007. Over the years, she has created hundreds of caricature images. Ksenia Fedorova embodied her rich practical experience and theoretical studies of the genre in a number of teaching manuals, recommended for teaching.