Time to read
« Back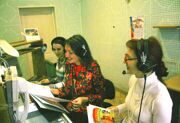 Time to read
11.10.2016
Ksenia Fedorova is a guest of ll-Russian state television and radio broadcasting company.
Ksenia nd journalist Elena Romanova spoke about Ksenia's literary and visual creativity, her projects, literary and life preferences, as well as the actual problem of attracting children to books and reading. The poems from three books of the poet sounded on air.
After the broadcast the editorial office received many phone calls from radio listeners.